A couple of weeks ago I was asking people to Buy My House. I first bought the property, located in Kiev, Ukraine, in 2017. That was exciting. I paid ETH for the property (about $60k at the time) and title transferred via Propy on a blockchain, all approved by the Ukrainian government. Never before had real estate officially changed hands via a blockchain. Ethereum founder Vitalik Buterin was even gracious enough to be included in a picture when we physically transferred the (physical) keys to apartment.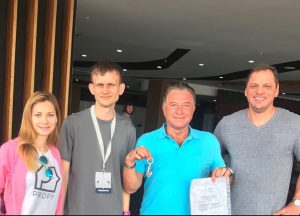 Fast forward to this year. Moving title to real estate on a blockchain is now common – Propy has facilitated title transfer on more than 1,000 properties via the Ethereum blockchain. Those transactions represent over $1b in total dollar value.
But all those real estate sales still usually use the old method of buying and selling a home – the hiring of real estate agents and all of the agreements that go with it.
That process isn't going anywhere for now. But one thing is going to change – we believe more and more real property, including real estate, will begin to have a digital representation on a blockchain via a NFT. And a legal framework has now been created such that when the NFT is sold to someone new, rights to the real property go with it.
Last week, on June 9, the Propy auction for the Kiev property NFT was completed on Seen.haus. The NFT was transferred to its new owner. That person, who has agreed to be named – is San Francisco based engineer Devon Bernard. Here's the NFT:
The final price was 36 ETH – about $93,000. So I made a little profit on the house, although with all the upgrades and finishing I think Devon got it for a steal. No word from him on whether or not he's going to live in it, rent it out, or sell it. I look forward to seeing what he does with the place!
For press coverage of the event, see my original blog post. Congratulations to Propy for changing the world again. Based on the number of people who've reached out to learn how to sell their own properties via NFTs with Propy, I'm quite sure we'll see many more sales like this in the near future.
Propy blog post on the auction closing is here.
UPDATE: The new owner Devon shares his plans for the property.