Next week, Algorand is launching its first official Australian tour, where Founder Silvio Micali and Steve Kokinos will host a packed week of events in Sydney and Melbourne.
As Australian partners at the fund, Ninor and I are thrilled to welcome two of crypto's brightest minds to our very own backyard.
Silvio and Steve are a dynamic duo to say the least and definitely a pair you don't want to miss live. As part of the roadshow, Algorand is hosting a big week of events from lectures at Australia's top universities to a series of meetups and panel discussions with industry leaders from the local scene.
Arrington XRP Capital will be joining the tour alongside partners Mozaik Capital, Blockchain Australia, Sydney Blockchain Professionals and the Blockchain Centre.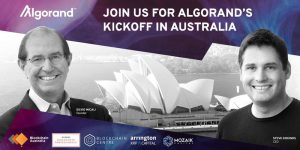 For our Aussie readers, here's a summary of Silvio and Steve's week ahead:
September 4 – Melbourne
September 5 – Sydney
September 6 – Sydney
On the 5th, I will moderate a panel discussion between Silvio and Steve, where we will be joined by legal mind Hannah Glass from King & Mallesons and blockchain engineer and Deepyr founder Adrian Guerrera.
One of the best parts of being a crypto fund manager is the opportunity to not only invest in projects and founders globally, but to make friends and build communities across the world. It's events like these that make the 24/7, timezone-agnostic chaos of the crypto markets well worth their permanence.
Algorand is one of the most ambitious projects in crypto. The team's vision for a "borderless economy" aligns very closely with our own guiding principles at Arrington XRP Capital: our team is spread across continents and we invest globally in technologies and teams that are unbounded by the closed walls of a legacy financial system.
Hopefully the first of many. Welcome!