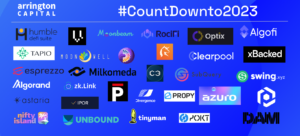 2022 was quite a year! We spent the final month of 2023 highlighting one of the Arrington Capital startups innovating in web3 each day. Our founders inspire us and we believe the long term visions demonstrated by these companies (as a sample!) mean that 2023 will be a year of continued innovation.
In case you missed our #CountDownto2023, here is a recap.
Dec 1: RociFi
RociFi is a decentralized credit economy on Polygon with non-transferable, blockchain-native credit scores designed to facilitate under-collateralized retail lending. At its core, the protocol leverages on-chain data, machine learning and loan risk-management to effectively and profitably facilitate under-collateralized loans via the blockchain. RociFi consists of an on-chain lending protocol and off-chain credit scoring API.
On RociFi borrowers can take USDC loans. Before taking loans, borrowers must 'score' their connected addresses, i.e. mint non-transferrable NFCS (Non-fungible Credit Score) for which a Credit Score will be calculated based on the transactional history of the addresses accounted with connected wallet. Borrowers with good scores can get access to loans with lower collateral requirements.
In 2022, RociFi had 25,000 on-chain credit scores (NFCS) minted & 1,235 under-collateralized loans issued with 12M API calls.
2023 will see RociFi NFCS and lending go multi-chain. Want to learn more about @rocifi?  Check out their website or mint a NFCS.
DEC 2: Azuro Protocol
Azuro Protocol, a decentralized predictions protocol that anyone can build on top of. Azuro Protocol is an open source public-domain software including a set of smart contracts, written in Solidity that can be deployed on the Ethereum Blockchain, and/or other blockchains. The first version (V1) of the Azuro Protocol was published in August, 2021 on the Ethereum Rinkeby testnet. Then, in June, 2022 It was launched on Gnosis Chain, an Ethereum sister chain.
Led by @rosstothefuture and @P_azuro, the team has shared that 2022 saw Azuro Protocol become the first (& currently only) protocol to utilize pooled liquidity for betting markets, via a novel liquidity pool design called the "Liquidity Tree." The approach allows for a feed of tens of thousands of liquid and correctly priced betting markets to exist on the protocol at any point of time, & for any frontend app to be able to permissionlessly connect to the feed. The raw beta mainnet release of the first app (bookmaker.XYZ) made Azuro a top5 protocol on Gnosis Chain.
For 2023, the team will launch Azuro V2, a core protocol update which would enable an increase in liquidity allocation efficiency, leading to the completion of Azuro's MVP. This will entail more sports, markets, opening up the liquidity pools for public participation, and enable new critical betting features. Azuro has 2 frontends already built on the protocol, & they expect 3 more to go live early in 2023.
To learn more, follow them on Twitter or check out the first live Dapp at https://bookmaker.xyz/ .
Dec 3: Derby Stars
Derby Stars, a horse racing game experience in web3. With a horse racing fantasy-like experience, Derby Stars is built on Polygon. Users can enjoy PVE training, PVP racing, breeding and earning tokens as rewards. Plus, Rental system, Advanced tournament, Avatar, Native marketplace, Item crafting and more. Participants can level up and ride their own horses in this metaverse experience.
The team tells us they will have new launches in Q1 2023. To learn more, check out their channels: Twitter: https://twitter.com/DerbyStars_HQ, Discord: https://discord.com/invite/derbystars, Medium: https://medium.com/@DerbyStars, Telegram: https://medium.com/@DerbyStars
Dec 4: Tapio
Tapio Protocol, a solution for unlocking liquidity for staked assets on Polkadot. In unifying fragmented liquidity into highly efficient and usable synthetic assets, Tapio's flagship product tDOT went live June 2022. Tapio is one of the earliest protocols live on Polkadot. The team, led by @terrycflam, informs us that tDOT has reached an all time high (mint volume) at 190,000 tDOT & 13,000 tDOT yield generated for DOT holders. The team also let us know that Tapio Protocol has recorded 5,702 DOT in protocol revenue since inception, making it one of the earliest protocols on Polkadot to demonstrate signs of product market fit.
Going into 2023, the team's focus is driving adoption for tDOT thru institutional funds, liquid staking DOT holders & DOT holders on Polkadot relay chain. Further, the team will expand its ecosystem reach by integrating tDOT w/ dApps & parachains w/in the Polkadot ecosystem. To learn more: https://www.tapioprotocol.io/ or follow them on Twitter.
Dec 5: Algorand
Algorand, a pure proof-of-stake Layer 1 founded by Turing award winner @silviomicali. Algorand's  institutional grade blockchain infrastructure is the first and only to achieve decentralization, scalability, and security without compromises and while being environmentally sustainable.
The Arrington team joined the Algorand community last week in Dubai for Decipher 2022, the annual gathering of the Algorand ecosystem. Over 1500 people from the community discussed current topics, adoption announcements, collaboration opportunities, developer tooling & more. The event included a pitch fest as part of the DevGreenhouse initiatives. Check out this recap of the event: https://twitter.com/AlgoFoundation/status/1598281460166819841?s=20&t=ZvRlklnINm6k6ZdYBNNnyg
From a technical perspective, the team recently AVM (Algorand Virtual Machine) 8, which expands the capabilities of Algorand Smart Contracts – including unlimited storage for smart contracts: https://twitter.com/algodevs/status/1598743722358968321?s=20&t=ZvRlklnINm6k6ZdYBNNnyg
For more up to date information on Algorand, follow these handles on Twitter:
Dec 6: Nifty Island
Nifty Island, an open, social game world powered by web3. Led by @charl3svii & @ZunkZunkZunk, the team tells us that the full Nifty Island platform is expected to launch in 2023 after they have been heads down building. Right now, you can learn more about island building, earning crypto through games, and connecting with other web3 communities: https://niftyisland.com/.
Earlier this fall, they released their 3D Game Asset marketplace in a closed alpha where players were able to start creating, trading, and displaying 3D NFTs on their island. The snippets they have shared on social give some glimpse as to what is to come!
To learn more about Nifty Island, follow them on Twitter and check out their Discord.
Dec 7: Subquery Network
SubQuery Network, an open, flexible, fast and universal data indexing framework for web3 with a mission to help developers create the decentralized products of the future. They want to empower data indexing seamlessly across all chains. They currently support Polkadot, Avalanch, Cosmos, Algorand, and Kusama.
Led by @zoujialiu and @JamesABayly, the team hosts regular sessions with devs looking to learn more about the @subQueryNetwork indexing tools. They have also recently announced their update with multi-chain #indexing, enabling devs to write once and run anywhere – indexing data from across different networks into the same database (more on this: http://subquery.medium.com/3b7aff5b5f7).
After bringing fast, flexible and open indexing to Web3 developers in Avalanche, Algorand and Cosmos ecosystems in 2022, the team tells us they can't wait to expand the @subquerynetwork reach further in the year ahead with more offerings.  To stay in the loop, follow them on Twitter.
Dec 8: zkLink
zkLink, a multi-chain, trading-focus L2 network secured by ZKProofs. With a belief that the future of DeFi is multi-chain, the zkLink team is on a mission to unify the world's blockchains by building a next-generation L2 network that is secure, efficient, and easy to use for developers and users.
Recently, the first eco-dApp deployed on zkLink L2 network has launched its testnet. The @zkLinkorg team has also published a guest post on our Arrington Capital blog.
For more information, follow them on Twitter or join their Discord.
Dec 9: Tinyman
Tinyman, a dex built on Algorand. Tinyman has been a big player in the Algorand ecosystem for a long time and continues to deliver on creating an open and safe marketplace for traders, liquidity providers and developers. They recently partnered with Pera Wallet for slick functionality that allows asset swapping with a few taps, right within the wallet. Check it out here: https://twitter.com/PeraAlgoWallet/status/1598327409794752514?s=20&t=hUSfGXbNdgKj4MurKLv8BQ
Tinyman's CTO Fergal Walsh was on stage at Decipher 2022 talking about Tealish (!), a new innovative programming language from the Tinyman tech team and used for Tinyman v2. In addition, Tinyman AMM v2.0 is coming in January 2023: https://twitter.com/tinymanorg/status/1595787206462947328?s=20&t=hUSfGXbNdgKj4MurKLv8BQ
We are excited for what Tinyman is providing for the growing Algorand ecosystem. The awesome team led by @keryilmaz @fergalwalsh tells us they'll be doing a lot of collaboration with @PeraAlgoWallet and are aiming to create more liquidity for the Algorand ecosystem by integrating to more projects. To learn more: https://tinyman.org/
Dec 10: Optix Protocol
OptixProtocol is a decentralized options protocol/exchange. Participants can buy options on top crypto assets with up to 10x leverage and earn sustainable yield selling options, directly from their wallet. The exchange opened for buying & exercising options with limited markets & liquidity in its guarded launch on Polygon: https://optix.substack.com/p/optix-launch-plan 
In mid January of 2023, Optix will fully launch, with a significant increase in liquidity, the start of incentive programs and more. The ability to create a vault and sell options for whitelisted markets & collateral tokens will be made permissionless and immutable(we can't change it back!). To learn more and get involved, check out this post on Twitter and give them a follow! 
Dec 11: Clearpool Finance
Clearpool Finance, the first decentralized credit marketplace for institutional capital  With a team led by @rob8830, @jkronbichler & @onchainpanini, 2022 saw @clearpoolFin enabling Wall Street Giant, Jane Street, to enter DeFi via a permissioned pool on Clearpool: https://medium.com/clearpool-finance/clearpool-launches-its-first-permissioned-lending-pool-in-partnership-with-jane-street-and-ac90414fa4c9
The Clearpool team tells us there is a lot to come in 2023: a significant upgrade to permissioned pools which will provide more sophistication to institutions looking for compliant access to DeFi lending, and an upgrade to the interest rate curve. New products coming include term pools which will give borrowers guaranteed term liquidity and lenders the opportunity to earn higher yields, and diversified pools giving lenders the opportunity to diversify liquidity across multiple pools in a single transaction. 
What Clearpool has built is highly composable. Anybody can innovate on top of it. Term pools will lead to interest rate derivatives, diversified pools to indexes and index swaps, and a secondary market trading infrastructure will also be introduced. The secondary market trading infrastructure will lead to credit derivatives and leveraged lending. Hence, Clearpool will develop into an entire ecosystem of products that will begin to resemble a decentralized capital markets infrastructure.
Learn more by following them on Twitter @ClearpoolFin.
Dec 12: Dexible
Dexible, an engine for automated DeFi trading and capital efficiency that enables pro traders, 3rd party apps, and buy-side institutions to set automated trades & customize strategies.  The team, led by @_themitch_, @JakeTantleff, @mdcoon, & @mjpowersjr, has laid out a compelling vision on human evolution integrated with finance and asset management  that drives them each and every day: https://dexible.io/company/team 
The team tells us that @DexibleApp is making steady progress toward the launch of signals-based trading for derivatives and lending markets anyone can compose from a web-based graphical editor. A new architecture will even meet tight institutional security requirements.  
To stay in the loop, check out https://dexible.io/ or follow @DexibleApp.
Dec 13: Moonbeam Network
Moonbeam is a smart contract platform for building cross-chain connected applications — enabling users to interact with multiple blockchains at the same time. By uniting functionality from Ethereum, Cosmos, Polkadot, and more into a single platform, @MoonbeamNetwork solves today's fragmented user experience — unlocking interoperability and paving a new way for the next generation of applications.
Earlier this year, we launched the Arrington Moonbeam Growth Fund, which will finance new companies and protocols leveraging @moonbeamnetwork. We are really excited to be playing a role in the upcoming Moonbeam Accelerator in early 2023: Brought to you by the Moonbeam Foundation & @rokk3r_inc, this program helps growth-stage projects on Moonbeam refine their ideas & reinforce skills for running successful Web3 startups.  A cohort of 10 teams will be the first to be incubated over a period of 6 months, including a recruitment period. Applications are now being accepted – join us!  To apply, simply click the link to the form at the bottom and fill it out. Applications are due January 20, 2023: https://moonbeamaccelerator.com/moonbeam-accelerator/
Dec 14: Milkomeda
Milkomeda is a Layer 2 Protocol (rollups) delivering EVM capabilities to non-EVM blockchains. With a team led by @nicoarqueros and @SebastienGllmt, Milkomeda delivers rollup technologies to leading Layer-1 ecosystems by offering Solidity, the most popular smart contracting language, while enhancing inter-blockchain interoperability, user experience, & dev traction all at Layer 2.
The team has delivered on two major milestones recently: First, they launched the Milkomeda A1 Rollup on Algorand in October, which exposes Algorand to developers writing in Solidity and opening a whole new expansion opportunity for devs to simply launch their existing dApps with little to no changes to the underlying code.
Secondly, with an ecosystem that is growing day by day, the team launched the Milkomeda dApp Store so people could easily find what is built on Milkomeda, what DeFi protocols exist, bridges, how to explore what is avail, etc. They launched the dApp Store based on user feedback so that they didn't have to rely on others and social media to inform what dApps one could or should be using. 
To learn more about what the team is up to, visit https://milkomeda.com/ or follow them on Twitter @milkomeda_com.
Dec 15: IPOR
IPOR Labs AG specializes in development of blockchain based derivatives software. The IPOR Protocol, consists of 3 parts: IPOR Index – The Heartbeat of DeFi, Interest Rate Derivative(s), and the Liquidity Pool & Automated Market Maker. On Dec 15th when we highlighted what IPOR is up to, they announced the release of a new DeFi primitive: Power Tokens, a new liquidity mining mechanism design. The Power Token design deviates from veCRV tokenomics in search of a more sustainable, long lasting, and modular liquidity mining mechanism.
The news comes after almost 2.5 years with barely any meaningful innovation in liquidity mining. Check out the full announcement.
IPOR Labs was founded by veterans in financial markets, cryptocurrency, and blockchain expertise spanning protocol development, fixed income, interest rate derivatives, quantitative finance, exchange trading systems, venture capital, and software development. Follow IPOR's cofounders: @DarrenCamas @DimitarDinev7
Dex 16: Vega Protocol 
The back half of December kicked off with a look at @vegaprotocol, decentralized infrastructure for the fair creation and trading of derivatives. Vega's differentiators include permissionless market creation, fair access to order books, preventing miner extractable value (MEV), high capital efficiency, cross chain support, native liquidity provision, no gas fees on trading and more. 
The team, led by @barnabee, @nissaszabo and @RJ_Simmonds tells us that  Alpha Mainnet Launch is coming soon 👀. This comes on the heels of the recently launched restricted MainNet. 
To learn more on why Vega has been built as its own chain and what's next, check out this recent interview with Barney and follow them on Twitter: https://twitter.com/vegaprotocol.
Dec 17: Astaria
Astaria's mission is to provide instant liquidity for NFT holders. In 2022, @astariaxyz successfully raised $8M to grow the team and continue development. The Astaria team tells us that they are currently in their final audit. In early 2023 they will be launching the platform and going LIVE! 
Give them a follow @AstariaXYZ or subscribe to their updates: https://astaria.xyz/.
Dec 18: Persistence
@PersistenceOne, a liquid staking hub for PoS assets, is a Tendermint based specialized Layer-1 powering an ecosystem of #DeFi apps focused on unlocking liquidity of staked assets. Led by Chief Persister, @Tushar307, the team informs us that Persistence saw growth in 2022 with highlights that included: 
📣Announcement of Persistence Labs and Persistence Foundation to foster next phase of growth
📣Liquid staking solution launched by pSTAKE for BNB and ETH
📣Liquid staking solution for ATOM to be launched on Persistence chain in Dec'22
📣pSTAKE TVL at its peak reached $50Mn, with 7500+ unique users till date
📣Persistence Core chain upgraded to support CosmWasm
The Persistence team will continue to focus on ecosystem expansion to become the liquid staking hub of the PoS economy. Some key launches planned:
💥DEX and Money market applications for yield generating assets built on Persistence chain  
💥Liquid staking solutions expansion for other IBC assets
To learn more:
Liquid stake ATOM/BNB at https://pstake.finance/ 
Check out the website at  https://persistence.one/ 
@pStakeFinance @PersistenceOne
Dec 19: Esprezzo
Esprezzo is a company creating custom Web3 data streams & alerts in seconds. In 2022, @esprezzoapp launched the private Dispatch beta and onboarded its first users! Dispatch is a super easy-to-use no-code interface for creating Web3 alerts and data streams (the Zapier of Web3). It also has NFT alerts: https://blog.esprezzo.io/esprezzo-dispatch-nft-alerts 
Esprezzo's Dispatch empowers small #web3 teams Web3 teams looking to speed up their development or collaborate better with non-technical team members using real-time smart contract event data. Users can send real-time event data to webhooks in their own apps.
In addition to Ethereum, @esprezzoapp added support for Polygon, BSC & Avalanche, building a foundation for project teams and retail investors who are building on and want to track NFT, DeFi, and smart contract activity on multiple networks. Esprezzo is also integrated with top DEXs including Uniswap, QuickSwap and Pangolin.
In 2023, the team (led by @RemyCarpinito) tells us they are looking forward to onboarding more users, adding more data sources & outputs, partnering with additional projects, releasing API and other dev tools.
Dec 20: Propy
Propy is a web3-enabled title and escrow experience. With a team led by @NataliePropy,@PropyInc is solving for the stressful and multifaceted process of closing a real estate transaction. Their solutions are tech and blockchain powered – allowing entirely online and self-driving real estate transactions on smart contracts. 
A leading innovator in real estate transaction automation, Propy launched blockchain-based title and escrow products earlier this year, supporting traditional, crypto and NFT closings.
With $4bn in processed transactions for buyers & agents, Propy is empowering the real estate industry to shift to closing transactions in a transparent, secure & seamless way. 
To learn more, visit https://propy.com/browse/, follow them on Twitter at @PropyInc, or check out their new referral program! Sign up, invite your friends that may buy a property soon and you'll receive 1,000 PRO token after the sale (token is listed on Coinbase):  propy.com/signup 
Dec 21: Unbound Finance
Unbound Finance is the one-stop yield optimization platform for your #DeFi investments. In December, @unboundfinance announced a partnership with @DefiEdge, a @Uniswap V3-based asset management protocol. Through this partnership, users will be able to collateralize Uni V3 positions on Unbound to mint $UND. Further, Unbound launched its version 2 whitepaper and testnet this past October. Get involved by checking them out here:
Whitepaper: https://twitter.com/unboundfinance/status/1577641523705171970   
Testnet: https://twitter.com/unboundfinance/status/1583099695513358336   
The team, led by Tarun @0xtj1, informs us that MainNet will be released in early 2023.
Stay in the loop by giving them a follow @unboundfinance
Dec 22: C3
C3 Protocol is a low-latency and performant decentralized exchange that is accessible from any blockchain. The team has been heads down building and are true believers in decentralization. Last month they put out a blog on their thoughts around Proof of Reserve (PoR), or cryptographic proofs provided by an exchange on funds the exchange holds on-chain. Their Take: Proof of Reserve is only half of the story to ensure solvency. The industry also needs a Proof of Liability (PoL) to ensure certainty around the sum of all account balances.
To learn more, follow them at @C3Protocol or visit https://c3.io/ 
Dec 23: DAM Finance
DAM Finance is an omnichain stablecoin protocol helping emerging networks securely scale liquidity. The team behind DAM includes: @hoco_dam  @SophieWHolm @noah_foltz  @rogdefi. DAM recently launched Moonwalkers Testnet, with two major items: The d2O stablecoin, targeted at unlocking crypto ecosystem liquidity, and dReservoir, a teleportation primitive that enables secure & seamless omnichain value transfer.
DAM Finance'sfounder, Harrison Comfort, wrote a thread recently on why #defi is more relevant than event. A good read. 
Follow them on Twitter: @DAM_Finance
Dec 24: SwingXYZ
Swing.XYZ is the unified API/SDK for cross-chain crypto liquidity and bridge aggregation. With a mission to empower every #web3 team with trusted, unified blockchain liquidity, Swing is helping teams deliver multi chain strategy in record time by providing access to a single liquidity integration layer.
With a growing list of blockchains, bridges and liquidity sources, you can check out the full supported list here: https://developers.swing.xyz/docs/blockchainbridges/595c709cdf80a-supported-blockchains-bridges-and-liquidity 
If you haven't subscribed yet, their Cross Chain Roundup Newsletter makes for excellent holiday reading – a weekly digest of everything happening in cross-chain: New interoperability breakthroughs, integrations, innovations, etc.  https://swingxyz.substack.com/p/the-cross-chain-roundup-4?sd=pf 
The team, led by @viveikv recently kicked off the Community Beta Testing! Learn more at https://swing.xyz/ or their discord: http://discord.gg/VYgbmdkwsS
Dec 25: Prime Protocol
Prime Protocol is building the first natively cross chain prime brokerage.  Founded by @ColtonFConley (Ex Citadel Vol Trader, Yale Data Science & Econ), the team behind @prime_protocol believes the future is multi-chain, & that DeFi needs new financial primitives to increase capital efficiency. Their 1st Prime Community Call replay is avail for some holiday downtime viewing 🍿.
With a testnet that launched earlier in October, you can get a sense of what is coming by utilizing the beta version for Prime's cross-chain borrowing platform: https://medium.com/prime-protocol/prime-protocol-public-testnet-tutorial-guide-46602ab6a063 
For more info, be sure to follow @prime_protocol and check out all their sites and social forums: https://linktr.ee/primeprotocol.
Dec 26: Divergence
Divergence Protocol is a liquid and composable on-chain derivatives exchange for the DeFi primitive. The team at @Divergencedefi believes that 2022 has been a lesson about self-custody & risk management – and that as an industry, we have yet to see a liquid, fully-decentralized #options market on par with CeFi. Divergence is building a noncustodial options AMM for #DeFi users trade and hedge volatility:  https://youtu.be/W-CxXh1JQyE.
Inspired by Uniswap v3, Divergence aims to make options trading an easy experience of swapping virtual tokens. Active LPs can price liquidity on their own terms, composing options structures that protect and enhance their portfolios: https://twitter.com/divergencedefi/status/1569675448648605696
The team expects to release a new beta, before going live on @arbitrum and other L1/L2 in 2023. For more updates, follow @divergencedefi and their telegram: https://t.me/divergenceprotocol
Dec 27: AlgoFi
AlgoFi is building DeFi that scales on Algorand. A Y Combinator alum, the product allows people to earn interest, borrow, & trade crypto. The team works hard to integrate across platforms and recently enabled the ability for users to interact with Algofi directly in the @PeraAlgoWallet 🚀
Earlier this month, Algofi laid out a call-to-action for adopting transparent & fraud-proof financial platforms in the wake of this year's CeFi insolvencies:
"CeFi broke. DeFi didn't. Perhaps this was ultimately needed for the trustless economy to reach mainstream exit velocity. Whereas DeFi has been a speculative bet on the future of finance, today it feels more like a solution to the mismanagement problem that plagues CeFi crypto."
Check out the full article: https://thedefiant.io/the-case-for-defi-in-a-post-ftx-world-algofi 
Dec 28: xBacked
xBacked is a  a decentralized autonomous organization (DAO) developing a decentralized stablecoin for Algorand. Founded by @awoldes @xbacked's decentralized stablecoin is fully backed by crypto assets instead of centralized assets. No central entity controls the issuance of xUSD and other tokens the xBacked protocol might build in the future.
In December, the team had an end of year AMA: Check out the recording to hear from the team & see what is going on and give them a follow @xbacked.
Dec 29: Moonwell
@MoonwellDeFi is an open lending and borrowing DeFi protocol on Moonbeam & Moonriver. With founding contributors @LunarTechFdn @LukeYoungblood @LucasKozinski and @T2N0YXZpdXM, MoonwellDeFi launched Moonwell Apollo in 2022 and rapidly became the largest lending protocol and DeFi project in the Polkadot ecosystem, achieving $350m TVL in a matter of weeks. 
Since the launch, the Moonwell community has grown to several thousand members and has decentralized the protocol through on-chain governance. While many centralized lenders have recently become insolvent, Moonwell's decentralized money markets have processed liquidations and are demonstrating every day that DeFi offers superior levels of trust minimization and economic security.
To stay in the loop, give them a follow at @MoonwellDeFi and check out https://moonwell.fi/ 
Dec 30: Pocket Network
@POKTnetwork is a reliable and decentralized node network with maximum uptime and optimized performance built into its core – all governed by a DAO.
Decentralized infrastructure also saw an increase in demand and 2022 saw a number of new records for Pocket Network:
All-time high for total daily relays: 1.4 billion relays serviced on October 23.

Total relays serviced for the year: 281 billion (>21x increase over 2021!)

Highest number of daily active users in the

Pocket Portal

. 

All-time high for daily relays served through the Pocket Portal (excluding public endpoints): 1.065 billion on October 23.
The team and community recently shared a year-end look at the @POKTnetwork ecosystem, from massive relay growth to community-driven projects, key releases, and more. 
Dec 31: Humble Defi
@HumbleDefi is a defi suite built on Algorand with blockchain programming language Reach. Humble allows people to swap tokens, earn interest, farm and more. 
HumbleSwap is the first product: a decentralized exchange that empowers secure swapping of tokens in seconds. Coming soon: Humble Analytics, Yield Farming, Humble DAO, and Limit Orders. They also have an eye towards cross chain. 
The team, led by @chrisswenor, has seen traction in 2022 and became one of the top apps within the Algorand ecosystem. Recently, they announced Humble Farms & Algorand Governance for Q1 2023 (and a partnership with @FolksFinance). The Humble team is working towards making gAlgo more accessible across the ecosystem and bring additional opportunities to generate yield with your LP tokens. Give them a follow and check out details here.