DAM's launch enables decentralized cross chain liquidity infrastructure
When we invested in the team behind DAM, we were excited to back founders with experience building blockchain applications for the world's largest corporations, financial institutions and central banks. We support their vision that the digital assets space needs a fault-tolerant, cross-chain defi infrastructure for scaling native liquidity. Read more from the team below and be sure to keep up to date with their progress. 
Learn more: https://dam.finance/ 
Follow them on Twitter and Discord.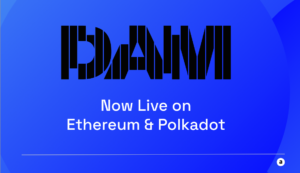 ____________________
DAM is a global, shared liquidity infrastructure for scalably moving value between sovereign networks. DAM's first decentralized application, d2o, is an omnichain stablecoin helping sovereign blockchains scale native liquidity. 
DAM recently announced that they are live on Ethereum and Moonbeam, a Polkadot parachain. The launch marks a significant milestone in DAM's roadmap, featuring the first of several multi-network decentralized applications designed to improve value mobility across the fragmented digital assets space. 
With the mainnet live, users can immediately access native stablecoin liquidity on Polkadot by minting the platform's d2o stablecoin on Ethereum and seamlessly teleporting it to the Moonbeam network, without traditional bridge risk, through DAM's decentralized dReservoir protocol. 
Now that DAM's infrastructure is live across both networks, it will enable Ethereum's liquidity to be seamlessly teleported to Moonbeam, and, by extension, to Polkadot and other parachains. 
"DAM is helping accelerate innovation in the digital assets space by providing scalable liquidity ramps between our partners' preferred sovereign networks," notes DAM Co-founder Harrison Comfort. "It becomes easier to build and access new solutions as we securely connect Ethereum, Polkadot, and eventually every blockchain."
d2o is initially backed by USDC, making it a conservative mechanism for emerging networks and projects on them to access stablecoin liquidity through DAM.