Tanssi, a new investment from Arrington Capital and our Arrington Moonbeam Growth Fund, announced their first funding round yesterday. A $3m seed round led by us, with participation from Borderless Capital, HashKey Capital, Fenbushi,  D1 Ventures, Hypersphere, C² Ventures, and Jsquare. Tanssi is building an appchain infrastructure protocol to make building new Polkadot parachains as smooth and simple as possible.
The company shares DNA with Moonbeam, one of Polkadot's most successful parachains to date (and one of our best performing investments). Francisco Agosti, Gorka Irazoqui and Katherine Quilca, all core contributors of the Moonbeam team, are now part of the founding team at Tanssi.
Polkadot is a blockchain of blockchains – the network was specifically designed to support various interconnected, application-specific sub-chains called parachains. Polkadot is known for being developer friendly and has one of the largest developer ecosystems in Web3 right now (according to the latest Electric Capital developer report).
Parachains are extremely powerful platforms, and are able to leverage cross chain messaging and security within the Polkadot network. Parachains are highly specialized and allow developers to select specific components required for what they are building – and enable cooperation with other parachains. They solve for scalability, flexibility, and shared security. 
But they are not easy to build – they require complex infrastructure, product and development teams as big as any other layer one. Tanssi is built to vastly simplify that process.
Tanssi is a pure infrastructure play – and infrastructure is sorely needed in our industry. There is accelerating momentum across the crypto community of builders during this cycle in the market. As products and services continue to mature with the overall ecosystem, infrastructure is still a critical area that needs ongoing evolution. As we see more and more founders coming into Web3 with brilliant ideas, they need the platforms and tooling to make their visions come to life. 
Tanssi's permissionless infrastructure, tools and services will make appchain deployment secure, efficient and developer-friendly. Tanssi's protocol will also benefit from the shared security and inherent interoperability that is part of Polkadot's design (relay chain). 
Having widely available infrastructure like Tanssi is what will equip developers with rapid deployment tools and enable them to quickly build and launch scalable applications with consumer focused user interface. Solutions like Tanssi will spur the next wave of applications – founders will be able to focus more on innovation and less on infrastructure components. 
Parachains connected to Tanssi gain access to a suite of tools and resources as services, including block production, data availability, cross-chain messaging, and bridges to external networks. Also included are management tools, templates, and key integrations such as wallets, indexers, RPC endpoints, among others. To maximize relay block space resources, these parachains run as siblings to Tanssi, rather than as children. This structure reinforces the efficiency and adaptability of the Tanssi protocol.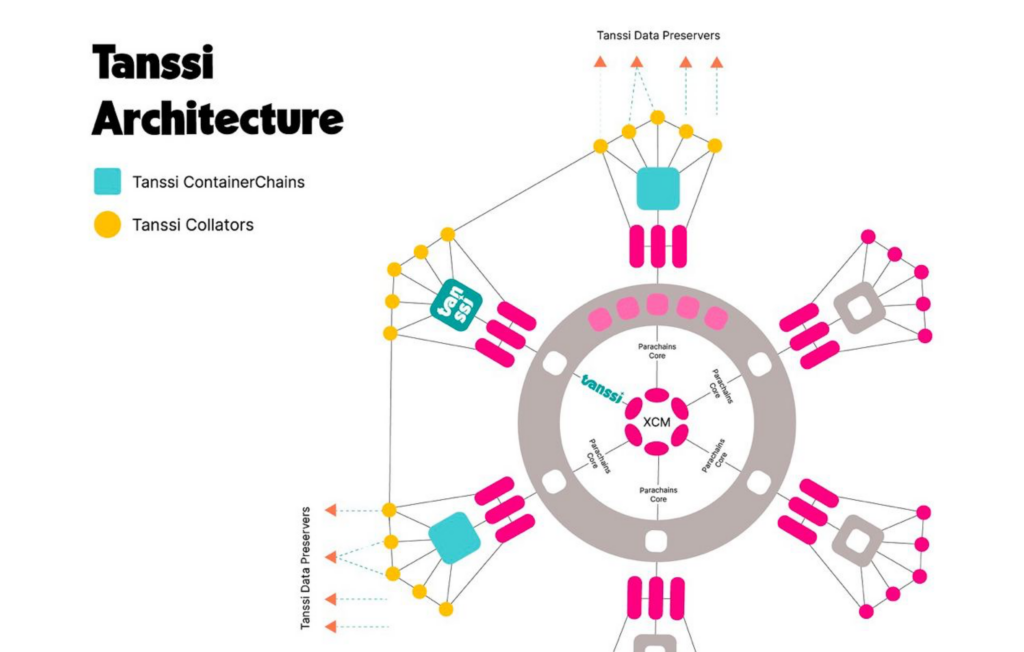 Additionally, ContainerChains are connected to Polkadot's relay chain, benefiting from the advantages of Polkadot's shared security and native interoperability. This connection provides an opportunity to interact with other parachains within the ecosystem. For more technical details, check out this blog post from Tanssi.
Tanssi's Test Network launch is anticipated later this year and the team expects MainNet live by 2024, and will play a role in broadening the Polkadot ecosystem to a wider group of developers.  
To attract more high-profile projects to the Tanssi network, Moondance Labs is introducing the Tanssi Ecosystem Pioneers program. This initiative aims to cultivate a vibrant community of builders and enhance their interaction with the Tanssi protocol. Sign up here to be among the first to learn more about the Tanssi Ecosystem Pioneers Program.
For more information and updates, visit the Tanssi website at https://www.tanssi.network/.