Arrington XRP Capital Partners are traveling this week and will be spread around the world. Mike will be at TechCrunch Disrupt tomorrow (Wednesday) speaking at 3:10 PM California time with Ripple CEO Brad Garlinghouse.
Heather is traveling to Israel for a special debut of new startup SpaceMesh. We'll have more details on both of those events afterwards.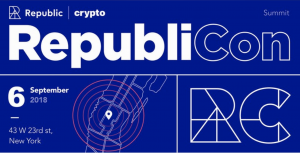 On Thursday, 9/6/18, I'll (Geoffrey) be attending RepubliCon, a one-day summit is hosted in NYC by Republic Crypto . Like most events we've attended this year, the event aims to "connect blockchain founders, investors, and other innovators". However, what caught my particular interest about this event is the opportunity to participate in a panel that will address one of the biggest challenges facing crypto investors, "Hype-Checking Crypto Investments".
Some of the specific issues we will try to delve into include the basics such as, "What do you look for?" or "Thoughts on valuations?", etc. These kinds of questions are table stakes for these kinds of discussions, but the real fun (or not) will happen when we start addressing the following questions:
– Have you made any investment mistakes?
– If you had one wish to help step up your investment game, what would it be?
– How are current market conditions affecting your investment strategy?
For me, that's where I hope to see if the group will be able to get past canned responses ("Great Team! Great Vision!", "We look at fundamentals" and "Truly disruptive, next-gen, trillion transactions/second"), and actually discuss how to find the real signals in the cacophony that is crypto investing.
The panel will be moderated by my friend and Republic Crypto Managing Director, Bryan Myint.
Also joining will be Gayatri Khot of MState, John Wu of Sharespost, Peter Wisniewski of Galaxy Digital and Ryan Mundy of Techlete Ventures.